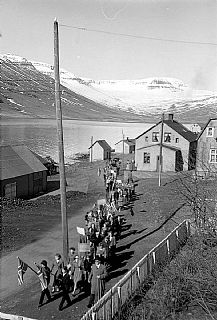 The years of World War II are a colourful period in Iceland"s culture and the purpose of the Icelandic World War II museum at Reyšarfjöršur is to give people the possibility to travel to the days of the occupation, to relive them or to get acquainted with them. The main theme is the life at wartime and the influences of the occupation for Icelanders. The exhibits of the museum show this in an interesting and lively way and visitors are able to go into a replica of a barrack and cinema hall and see artefacts from the war.
"When you visit the The Icelandic World World War II Museum you become a little bit more aware of the history and the pain and death of a time that in itself isn't that far away. You also become more aware of the sacrifices made and the solidarity and heroism ordinary people showed during the war."

- Siguršur Ingólfsson, poet and writer.